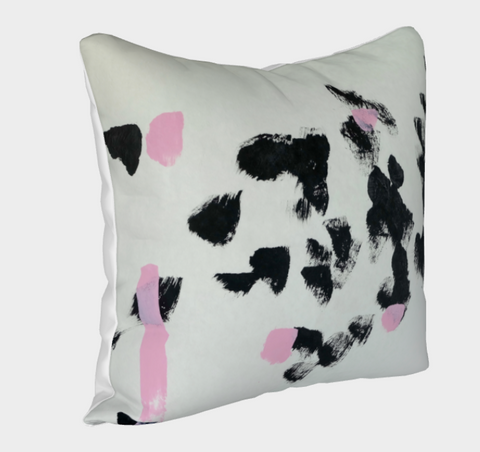 Free Pillow Cover with Every Purchase!
This pillow cover measuring 18"x18" is based on the original 'Crescendo'. Elephant Artist Nua On first lays down little dabs of dense Mars Black paint then adds a few carefully placed dabs of Brilliant Pink color, finishing with a single long stroke, almost as his signature to the piece. The reproduction of this amazing elephant art is created using canvas fabric that stays true year after year.
Couple this pillow with an insert of your choice commonly available at major home good stores or your favorite on-line retailer.
A $60 Value | While supplies last!
Special Portfolio
These are rare and unusual pieces of elephant art created by our most talented elephant artists.  Pulled from our Gallery Collection, these paintings represent the ultimate unique expression of abstract art.
Browse
Gallery Collection
Created during private, scheduled settings, the Elephant Art Gallery team in Thailand works with the elephant artist during the creation of these very special works of art.  These are our highest quality paintings, using only the best paints and handmade papers.
Browse
Value Collection
An inexpensive route to purchase and collect great original abstract elephant paintings. These paintings are created by the elephants in a less formal environment.  These are on card stock and a crowd favorite.
Browse
Meet the Elephant Artists
What our Customers Say
"We got our two beautiful paintings last Friday! They are hanging in a place of pride in our bedroom and we absolutely love them. They literally make me feel good. Thanks so much and please send our thanks to the artists!! If I could buy them a treat I would like to."
"I made the decision to buy the Jojo work, instantaneously. It is the first artifact I have bought in well over a decade. I class Jojo's painting as an essential. The design, sensitivity and balance on the elephant's part, as are the choice of paper, paints and colours on yours, are extraordinary."