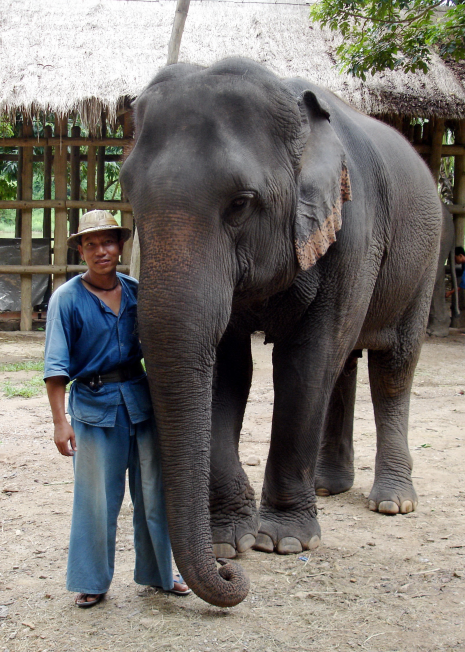 Elephant Pungkod
Name: Pungkod
Sex: Female
Born: 1982
Origin
Pungkod was born at The Thai Elephant Conservation Center, Lampang, Thailand.
Nature
Pungkod is an affectionate elephant. She used to be unruly and always ran away if shocked, but now she has calmed down and is always on good behaviour.
Special Story
Pungkod used to be in love with Jojo. She followed him everywhere and pushed other females away from him, using her ample posterior to nudge them (not so gently) away. She had competition from another female of the same age, Prachuap (not an artist) but Jojo finally mated with Wanalee in 2011.
Pungkod appears to be in love with Jojo……"
Artistic Talents
Alas Pungkod no longer paints as she has gone back to the jungle. Grab the last of her paintings while you can! Kod has a consistent style and paints in vertical strokes. We shall miss her talents, but her work lives on.
Mahout
Pungkod's mahout is Lai Tongsut, born in March 1972. Lai joined the Elephant Conservation Center in 1998 and took over as Kod's mahout in 2002. Lai is married to Naetnapa and they have no children. Lai is rumoured to be fond of dancing.