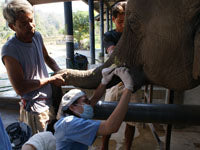 The Elephant Hospital & Mobile Clinic
The elephant hospital and mobile clinic run by the Thai Elephant Conservation Center (TECC) are fantastic resources that provide medical care to elephants absolutely free. The hospital at the TECC has nine qualified veterinarians who work at the hospital every day 8.00am until 4.00pm and are also on call 24 hours a day. At any one time there are 25 sick elephants under treatment at the hospital.
In addition to treating all elephants, whether wild or privately owned, free of charge, the hospital also provides education to people who have an interest in elephant health and encourages students to commit to elephant husbandry.
At any one time there are 25 sick elephants under treatment at the hospital."
The mobile clinic provides treatment for injured and sick elephants free of charge throughout the rest of Thailand. In urban areas where all too often the owners of the elephants do not understand proper elephant care, the vets provide consultation and education in elephant welfare and even provide a first aid box specially for elephant care. The mobile clinic treats on average 100 elephants a year.
The mobile clinic treats on average 100 elephants a year.
Typical Examples of Elephants Under Care at TECC
Here are a few typical cases of elephants that have been under care.
Krungsee, a female elephant, privately owned from Tak Province, has been in hospital the longest period, since January 1999. She is recovering slowly after treading on a landmine that blew off the foot from her right foreleg. She was walking near the Thai-Burmese border at the time, an area that is frequently mined and which cause similar injuries to many elephants, as well as killing and maiming humans of course.
Zrai is a male elephant from nearby Lampang and he has also been at the hospital permanently since 1999. Zrai has now been donated by his owner to the TECC and when he is fully recovered he will join the other healthy elephants that are being well taken care of at the Center. He may even become an artist. His condition involves serious infection to his right tusk, something that his owner could not possibly attend to without constant, expert veterinarian help.
Tui is a male elephant who was rescued from the streets of Bangkok and brought to the hospital by his owner in June 2005. Tui, like hundreds of other elephants that walk the streets of cities in search of food and cash for their owners, was in bad shape and his prognosis was simply "poor condition". Elephants like Tui require a lot of TLC (tender loving care), to be cared for in a stress free environment and given proper nutrition as well as medication for a range of illnesses including serious stress.
Kongtong is a privately owned male elephant from Phrae province who started treatment at the hospital in January 2005 when he was brought in after being shot in the leg by villagers who were afraid of him during his musth period. He has a huge abscess on his lower leg where the bullet was extracted and was in a serious condition as the abscess could not be cut away without risking bleeding to death. Musth is a natural phenomenon caused by a surge in reproductive hormones and can last for months in some males. During musth the male will become aggressive, difficult to manage and dangerous. To safely deal with musth, the mahout should tether the elephant in an isolated place with sufficient food and water and avoid making it work hard. Sadly the condition and these precautions are not fully understood by some owners and tragedies can occur. Poor Kongtong did not survive and eventually died, despite the best efforts of the hospital vets.